Back to home >
cattle feed mill
In recent years, cattle industry develops fast. Traditional cattle feed cannot meet the requirement now. With the efforts and strive of GEMCO's technicians, cattle feed pellet mill appeared. With the help of cattle feed pellet mill, you can make cattle feed pellets healthily and plentifully, which accelerate the fast growth of cattle. Cattle feed pellet mill is a brand new machine to process the pellets for cattle. Meanwhile it is referred to flat die design that is suitable for home use or small scale production. So it is well-known as small pellets feed machinery.
Feed Cattle with Pellets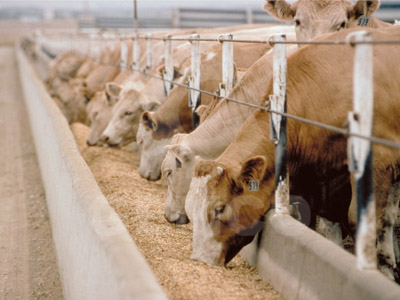 The cattle feed pellet mill is mainly used for family who has own cattle farm. On the one hand, owning a cattle pellet mill can make own cattle feed for poultry; On the other hand, we can save much time to do other things and make the agro-wastes into treasure. The small pellets feed machinery has a greatest merit which lies in compact structure and light weight. It is known to all that the size and portability much smaller and easier than ring die. Moreover, this kind of machine can be moved freely and easily. If who want to make own cattle feed pellets, he can choose the small pellet feed mill and get surprising results.
Cattle Feed Mill with Diesel Engine
Technical Parameters
| Model | Power | Capacity | Weight( NW/GW ) | Packing Size |
| --- | --- | --- | --- | --- |
| ZLSP-120A | 8HP | 60-100kg/h | 120/140kg | 900*500*730mm |
| ZLSP-150A | 8HP | 90-120 kg/h | 180/220kg | 1000*500*750mm |
| ZLSP-200A | 15HP | 200-300 kg/h | 210/240kg | 1460*750*900mm |
| ZLSP-230A | 228HP | 300-400 kg/h | 280/310kg | 1560*850*1000mm |
| ZLSP-260A | 30HP | 400-600 kg/h | 330/360kg | 1200*500*1070mm |
| ZLSP-300A | 55HP | 600-800 kg/h | 410/450kg | 1220*600*1000mm |
Why feed pellets made by cattle feed pellet mill is superior to traditional feed?
With this machine, you can mix ingredients that the growth of cattle needs together according to your recipe. When cattle are taking food, they can no longer piddling certain feed or ingredient. This promises the balance of cattle absorbing nutrition.
As we mentioned above, during pelletizing process, high temperature will be generated. This will make materials ferment and kill some harmful bacteria so that palatability of feed is improved while some disease can be avoid.